V-Mixer Console Overview
Live Digital Mixing Consoles
V-Mixer innovation and power is available in four models.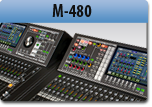 M-480
With a newly developed mixing engine, the M-480 provides an enhanced level of powerful and flexible audio processing for the premium choice in a digital audio console. It includes unprecedented routing ability, channel and EQ DSP, and also supports a cascade connection that enables 96 channels of mixing by connecting a second unit - all via one simple Cat5e/6 cable. Supporting live events, mobile production, broadcasting, and sound installation, the V-Mixing System with the M-480 V-Mixer at its heart provides "best in class" innovation for any live mixing venue. Learn more.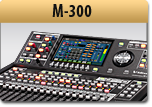 M-300
The M-300 V-Mixer is a 32-channel console that possesses many of the powerful features and extensive benefits of the award-winning M-400 and M-380 V-Mixers - but in a very compact format. The M-300 provides another console choice in the growing V-Mixing System lineup that also consists of Digital Snakes, Personal Mixing and Multi-Channel Recording. Its size and affordability allows smaller to mid-sized venues to replace their analog consoles with a digital mixing solution. The M-300 is ideal for any event production, houses of worship, schools, government and corporate applications. Learn more.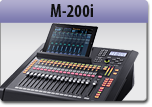 M-200i
The M-200i being part of the V-Mixer family means it has award-winning sound quality, operation and expandability – all condensed into a compact body. It is a V-Mixer with 24 analog inputs, 12 analog outputs and stereo digital output (AES/EBU) all built-in to the main unit. It's ready to perform, out of the box. With the built-in REAC port, it is easily expanded to include remote I/O simply by adding a Roland Digital Snake head. Learn more.

REAC
The backbone of the V-Mixing System is based on REAC — Roland's Ethernet Audio Communication transmission protocol for low latency, high quality digital audio transfer. Products using REAC technology are installed today in many venues and have been used for high profile events worldwide. REAC's 24-bit, 40x40 channel protocol delivers pristine digital audio via lightweight, inexpensive and easy to install cable (Cat5e). REAC technology is immune to externally induced signal quality degradation or hums and buzzes typically found in analog systems. You have more freedom in cable placement resulting in lower cost and better sounding. Learn more about the power and benefits of REAC.