Personal Mixing System Overview
The Finest Personal Mixing System Available
The Personal Mixing System consists of two components: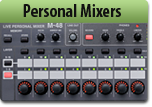 Personal Mixers
Never before has a personal mixer given you this much control and flexibility over your monitor mix. Designed for the performing musician, the M-48 enables control of up to 40 audio sources that can be managed via 16 stereo groups - assignable and unique per musician. Adjust your mix using level, pan, 3-band EQ and solo. Enhance the playing experience using built-in reverb and an ambient mic. Expand your options with multiple headphones jacks, separate balanced outputs and auxiliary input. Learn more.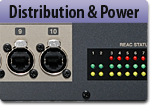 Distribution & Power
Distribute 40 channels of digital audio and also the power required by each personal mixer — all via one CAT5e cable. Learn more.

REAC
The backbone of the V-Mixing System is based on REAC — Roland's Ethernet Audio Communication transmission protocol for low latency, high quality digital audio transfer. Products using REAC technology are installed today in many venues and have been used for high profile events worldwide. REAC's 24-bit, 40x40 channel protocol delivers pristine digital audio via lightweight, inexpensive and easy to install cable (Cat5e). REAC technology is immune to externally induced signal quality degradation or hums and buzzes typically found in analog systems. You have more freedom in cable placement resulting in lower cost and better sounding. Learn more about the power and benefits of REAC.