Multi-channel Recording/Playback Overview
V-Mixing System Recording & Playback Solutions
The V-Mixing System enables three types of recording and playback solutions:
Onboard stereo recording via USB port on every V-Mixer
Integrated Multi-Channel recording and playback via R-1000 48-Track Recorder/Player
Integrated Multi-channel recording using REAC Recording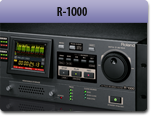 Multi-Channel Recording and Playback
The R-1000 is an intuitive stand alone, dedicated recorder/player designed to work with the V-Mixing System in any live event or production. Ideal for applications such as recording live concerts, virtual sound checks, rehearsals, playback of multiple tracks or surround stems, and professional audio mixing/engineering training. You can connect and use the R-1000 with any REAC digital snake as well as with any digital console with MADI output capabilities by using the Roland S-MADI REAC MADI Bridge. Learn more.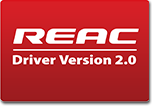 Multi-Channel Recording
Capture up to 40 channels of audio from your V-Mixing System or Digital Snake directly into most ASIO-based DAWs all via a simple CAT5e/6 cable connected directly to the gigabit network port on a PC.
The Roland REAC Driver Kit is intended for use with the Roland V-Mixer Consoles M-480, M-380, M-400, M-300, and M-200i. It is also compatible with Roland S-4000S, S-2416, S-1608, S-0808, and S-MADI Digital Snake Systems. This integrated and cost effective solution is ideal for recording live performances and concerts with the world-renowned V-Mixing System components. Learn more.