S-4000S Digital Snake System Overview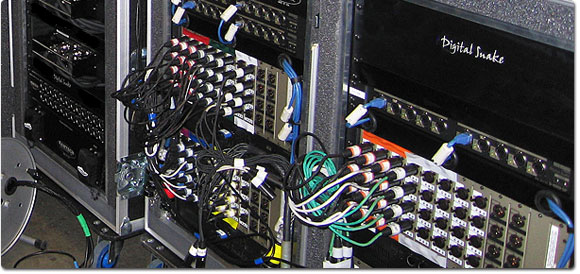 The S-4000S is a modular digital snake system delivering up to 160 channels of high quality 24-bit/96kHz audio over Cat5e cables. System highlights include remote controllable XR-1 professional quality mic preamps, redundant ethernet ports and splits using standard Ethernet hardware.
System Components
S-4000 Modular Digital Snakes are configured using two basic components, the S-4000H and the S-4000S. The S-4000H is a fixed 8 input, 32 output design that is typically used at the Front of House position or as the output side of a split.
The S-4000S is a modular chassis that is configured typically as an S-4000S-3208 with 32 inputs and 8 outputs. This configuration works perfectly with the S-4000H to make a 32x8 system. A 64x16 system can be easily configured using two S-4000S-3208, two S-4000H units and two Cat5e cables.
The S-4000S-3208 provides 32 mic/line inputs on the stage along with 8 returns from the console. At the FOH or console position, the S-4000H provides 32 outputs from the stage to the console's channel inputs. It also has 8 inputs to send buses from the console back to the stage for speakers and monitoring.
The other component of an S-4000 Digital Snake is the S-4000R remote controller. The S-4000R can be used at either the Stage or the FOH positions, but typically is used to control the input gains from the console at the FOH position.
Since the S-4000S is modular, it can be used to configure systems from 8x8 to 96x32 and more. Check out the Example Configurations below for more information on configuring a system, or simply call Roland Pro A/V and let us help you at (800) 380-2580.
S-4000 Cat5e Cable Advantages
Roland System Solutions' Digital Snake provides up to 40 channels of high quality, 24-bit 96kHz digital audio using one Cat5e cable. This design provides immunity to RF and electrical interference resulting in extremely quiet system performance. The nightmares of troubleshooting hums and buzzes in an installed analog snake are over! And since Cat5e cable is very lightweight and inexpensive it is often much easier and more cost effective to place in permanent installations. For staging/rental and touring sound companies, the advantages of carrying a 7 lb snake over the typical weight of an analog snake are easy to imagine!
S-4000 Digital Snake: Improvements in Intelligibility and Sound Quality
There are significant losses that occur over the lengths of analog cable used in most live sound applications. There are no audio losses over the length of an S-4000 system, either at the FOH position or even when the audio is split to multiple locations. This improvement in audio quality can be significant, especially when the distances are 200 feet or more.
S-4000 Digital Snake: Modular Design offers Configurations for Any Application
The system is configurable in 8 channel modules including 8x8, 16x8, 24x16, 32x8, 8x32 and many other system configurations. The S-4000 can carry up to 40 channels of 24/96 audio over one Cat5e cable. Using a couple of lightweight, inexpensive cables, systems up to 160 channels can be easily designed.
S-4000 Digital Snake: Redundant Design for Total System Confidence
The S-4000 System offers built-in redundant cable ports. If the main cable is compromised, the system will automatically and seamlessly switch to using the backup Ethernet cable. These ports also support the rugged Neutrik™ Ethercon® connectors.
The optional S-240P power supply can be used at the Stage location, FOH location or with any Splits. If there is a problem with the original power supply the optional supply will automatically and seamlessly take over. If the S-240P is connected to a separate circuit, then even interruption of the supply line to the main unit will not result in any loss of audio. And remember that the S-4000 System is completely immune to system-wide ground loops, so this becomes a real option for designing a redundant system.
S-4000 Digital Snake: Unlimited Splits Using Standard Ethernet Hardware
The system inputs can be "split" using standard Ethernet hardware switches providing for multiple "transformerless" audio splits to a monitor console, recording location and broadcast truck. Optional rack-mountable redundant power supplies are available for all of the split locations offering total system confidence. Since the audio is in the digital domain, of course there is no loss of audio quality when creating a split.
With the S-4000 you can also use standard Fiber Optic Media Converters to run your FOH system or splits as far from the stage as you need.
S-4000 Digital Snake: Remote Control of all Preamp Functions
RSS is the first in the industry to offer a hardware remote control unit, allowing users to easily and smoothly adjust input gain from –64 to +4 dBu. Using the highest-grade mic preamps designed specifically for "hot" live signals, the 94 kHz, 24-bit system provides professional quality dynamic range and resolution and up to 28dB of headroom. The system also provides multiple presets for one-touch recall of channel level and settings from the RSS remote controller. This is great for festivals, multiple stage configurations and also for restoring system default settings.
The control port on the S-4000 System is an RS-232c connector. The system can also be controlled from a computer and free PC/Mac software is available for control of up to 160 channels from one computer interface.
S-4000 Digital Snake System: Future Proof Your Live Audio Installations
Almost all installed live sound systems will eventually need to grow. Adding more channels can be very difficult using analog cable, because the cable itself as well as the conduit and installation is very expensive. Adding two or three more Cat5e cables to a system install is very easy, costs almost nothing and allows for very easy future system expansion. And the modularity of the S-4000 System allows smaller systems to be expanded by just adding more input or output modules. Future options for the system include AES input and output modules for direct connections with digital devices and mixing consoles with built in digital I/O.
The advantages of the S-4000 Digital Snake System are clear. With preamps right on the stage, no losses, hums or buzzes from the cabling, and lossless splits, the RSS Digital Snake System is definitely the future for live audio sound!
Configured Systems
The S-4000 System can be configured to meet almost any audio snake application from a small 16x4 system to a large 96x32 configuration.
For assistance in designing and pricing any S-4000S System Configuration, call Roland Pro A/V at (800) 380-2580.
Main Features
40 channels of 24-bit 96kHz audio per Cat5e cable — lightweight cable provides great savings for installations and future system expansion and is immune to hums and buzzes. Provides truly portable systems.
Lossless splits using standard, inexpensive Ethernet hardware — very cost effective way to provide splits for monitor, recording and broadcast locations.
Remote controller for the smooth, zipper-free control of preamp gain, individual phantom power and pad — fast and easy method to control Gain from Stage or FOH positions. Preset memories of preamp settings provide fast setup and easy return to default settings. Free PC/Mac software for control of up to 160 channels from one computer interface.
New, precision designed XR-1 preamps with superb headroom and clean warmth — improves overall audio quality and intelligibility by avoiding analog cabling losses. Mic/line level eliminates need for direct boxes.
Redundant Cat5e port and power supply option for complete system reliability — system automatically switches to backup in case of cable or power failure.
Very low protocol latency of 375 microseconds — perfect for use with in-ear monitoring systems.
Modular system for easy design and system growth — almost any configuration possible including 32x8, 48x16, 56x24 and 96x32
Applications
Multi-channel audio installations in churches, concert halls, theaters and auditoriums:
Multi-channel audio installations in churches, concert halls, theaters and auditoriums
Lightweight Cat5e cable offers great savings in installation labor and conduit costs
Easy to add extra cables for redundancy and future channel expansion
Immunity to hums and buzzes makes installations much easier and offers more routing options than when using analog cable
Much better intelligibility and general audio quality than analog snakes due to lossless audio transmission
Touring sound and rental/staging companies:
Very lightweight snake saves on manpower and setup/teardown time
Immunity to hums and buzzes eliminates difficult troubleshooting due to lighting rigs and other sources of interference
Modular system provides easy way to configure system for each event
Much better intelligibility and general audio quality than analog snakes due to lossless audio transmission
Example Configurations
Optional Items
Visit the Digital Snake Accessories page for a complete list of optional items.