Digital Snake System Overview
Multi-Channel Digital Audio Transfer Systems
Digital Snakes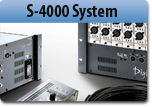 S-4000S System
The S-4000S is a modular digital snake system delivering 40 channels of high quality audio at up to 24-bit/96kHz all over Cat5e cables. System highlights include remote controllable XR-1 professional quality mic preamps, redundant Ethernet ports and splits using standard Ethernet hardware. The snake can be configured in various ways with either analog or digital input or output cards. The standard configuration is a 32x8 system. Learn more.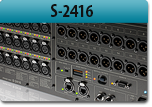 S-2416
The S-2416 digital snake stage unit expands the Roland line-up by offering a 24 input x 16 output analog and 8 input x 8 output digital, for a total of 32 input and 24 output channels. In addition to the analog and digital I/O the S-2416 has two REAC ports enabling the ability to cascade an additional snake for expanded I/O or for a fully redundant, zero-loss audio back-up solution. In addition, the discrete mic preamps are newly developed and high-grade ensuring highest-quality uncolored sound. Learn more.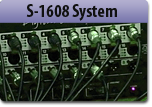 S-1608 System
The S-1608 fixed snake system is a compact version of the modular system. Easy to use and quick to install this 16 input by 8 output point-to-point audio snake solution offers the highest quality audio signal available in a compact system. Learn more.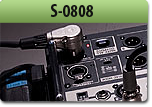 S-0808
The S-0808 Digital Snake is an 8in/8out compact, lightweight snake that supports multiple power options including battery-power, embedded-powered over REAC and power over Ethernet (PoE). The versatility in power and input choices make the S-0808 ideal for location sound, festivals, stage boxes, remote broadcasting and other portable applications. Learn more.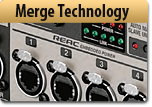 Merge Technology
The S-4000M REAC Merge Unit allows up to four Digital Snake heads to be merged into a REAC stream where the master device recognizes it as single REAC slave unit. This important technology enables distribution of multiple input/output units around a location, venue or stage for flexible point-to-point digital snake or V-Mixing System configurations. Learn more.

REAC
The superior quality and reliability of Roland Digital Snakes is made possible by coupling high quality preamps with REAC (Roland Ethernet Audio Communication) transmission technology. Roland Digital Snakes systems are immune to the hums, buzzes and general impedance and capacitive losses that plague analog snakes. By having the mic preamps close to their source and by avoiding the transmission losses of long runs of analog cable, your audio can sound its best throughout the whole system. The system provides superior clear sound, great intelligibility with minimum latency and the freedom to easily split or extend your source audio. Digital snakes are the next generation of audio quality for concerts, corporate events, house of worship and any kind of audio installation. Learn more about the power and benefits of REAC.