Features
Mix Multiple Input Formats
Like the V-440HD Multi-Format Video Mixer, the V-44SW supports multi-format signals like HD video (1080i/720p component), SD video (S-Video/Composite) and RGB from PC/Mac (from VGA to SXGA).
Proven Reliability
The highly reliable internal circuitry of the V-44SW allows it to be the trusted cornerstone of any video presentation system
Extremely Easy Operation
Most of the operations can be completed simply by pressing the input select buttons. This enables users with little knowledge or skill to control the unit.
Remote Controllable
V-44SW can be remote controlled from various external devices via MIDI or RS-232C serial interface. This will enable the use of customized user interfaces to match specific applications resulting in even more intuitive control.
Multi-Screen setup in compact space
V-44SW works as slave unit of any V-440HD. This enables multi-screen/video wall setups in compact spaces.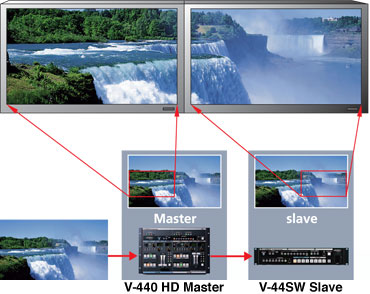 Applications
For any location where live mixing and switching of video is required.
Banquets
Sporting Centers
Ceremonies
Churches

Museums
Corporate Presentations
Trade Shows

Amusement Parks
Concerts and Musical Events
Rental and Staging