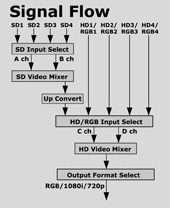 Mix multiformat signals
Capable of mixing SD video, HD video and RGB signal from computers.
Choice of output format
Selectable output format; 1080i or 720p for HDTV or RGB for computer display.
Seamless mixing/switching
Seamless mixing or switching of different signal formats with simple operation.
Simple effects control
Simple button and dial operation to select type/time of transition effect. Intuitive setup of PinP and SD/HD Keyers.
Connect multiple units
With thru outputs and MIDI sync, multiple units can be connected for output to multiple screens (video walls).
Remote controllable
V-LINK for control from any Roland musical instruments; RS-232C for computer control.

Version 2.0 software for the V-440HD Multi-Format Video Mixer adds 20 new features that enable further operational benefits.
Newly added PGM/PST (Flip/Flop) mode allows your choice of switching style:
| | |
| --- | --- |
| | PGM/PST mode has been added as an operational mode. Select the input channel you like to next on PST side. The image is output on Preview monitor. Just press AUTO button to send the signal to Program output. |
Optional automatic input disable
The version 2.0 software can disable the input selector where no input signal is detected. This will avoid accidental selection of a blank input.
Custom color selection for channel buttons
You can now choose from a variety of colors to backlight the LED input selectors to customize the V-440HD to personal preference.
Auto detection of RGB input format and wider selection of RGB output
The RGB inputs formats will now be detected automatically. This enables rapid switching of multiple computers to one input.
1366x768 (WXGA) resolution is now supported as an output format enabling high quality native support of most mid-sized LCD panels. 1366x768 is the most common native resolution for LCD panels 32" and smaller.
Expansion of Menu and Panel Preset functions
The aspect ratio of PinP foreground image (HD/RGB) can be set to 4:3 or 16:9 regardless of the aspect ratio of the source image.
The fade function for the master output can now optionally effect the dedicated standard definition output as well.
Users can now select different output fade modes as shown in diagram below:

Expansion of Menu and Panel Preset functions
• You can recall the default value of each and every parameter on the V-440HD. Convenient for instant recall of input parameters etc.
• Short cuts for menu selection: Double-click any of the button for instant selection of related menu.
• Master fade can be inserted while switching the Panel Preset. The V-440HD will fade to black and fade from black while switching panel presets allowing for smooth and easy panel preset transitions.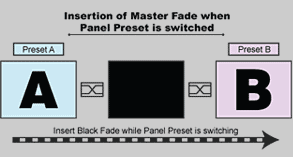 • Panel Preset can now be limited to selectable parameters chosen by the user. (For example, exclude input select, master fade parameter etc.)
The convenience of linking with more external devices
System integration ability is expanded by the ability to link to more external devices.

Remote control from PR series video presenters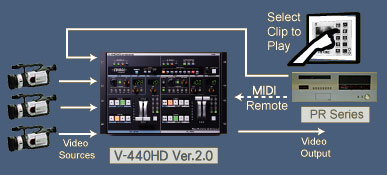 For example, remote control of the V-440HD's input select function is now possible from the PR series video presenters. * Version 1.2 or later of PR series supports the remote control. You can select an input on the V-440HD as you select a clip in the Preview Presenter.

More flexible back-up of mixer parameters and transfer to back-up units



A Master V-440HD unit can transfer mixer setup parameters via MIDI to a slave unit allowing for convenient Multi-Screen set-ups.

Data backup via RS-232C



Setup data can be backed up or transferred from or to a PC via RS-232C.


Example Configurations
Awards


Awarded at NAB '05