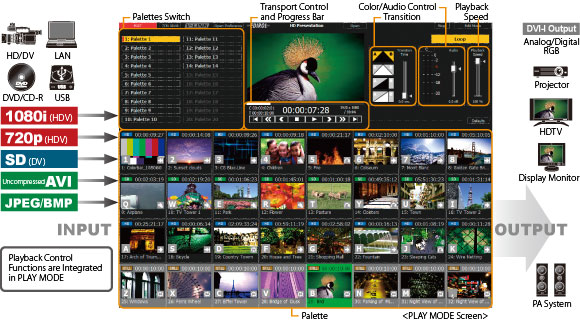 Quick Response & Easy Operation
Operating the PR-1000HD is extremely easy as already made popular by Roland's line of existing video presenters (DV-7PR, PR-50/80). Assigning clips, triggering, speed control, audio levels and other functions can be easily executed via the intuitive thumbnail graphical user interfaces.
Supports Multiple Video Formats
The PR-1000HD video presenter supports multiple image formats including HD (1080i and 720p) and SD video as well as still images. Regardless of the original format, the PR-1000HD outputs video from the DVI-I terminal in a variety of HD, or RGB formats.
Playback Full-Resolution Video in Real-time

The playback of video content or still images from the PR-1000HD is instantaneous and perfect for any situation requiring on demand playback of video with "mission-critical" reliability.
Large-capacity HDDs and Reliable system
A maximum of 20 hours of video material can be captured to one HDD. Two HDD slots on the PR-1000HD enables data management features, copy and backup. *Minimum one HDD is required.

Materials can be imported from disc media (CD/DVD), USB Storage or over the network. The system files are installed in Solid-State memory making playback and operation stable and reliable.
Built-in Scheduler and support for external controls
A built-in software scheduler allows content to be played by specific time, date, day of the week and month. Playback, Power OFF and other parameters can be remotely controlled from external devices using RS-232C or MIDI.
VC series expands Multi-Format output options
Combine the PR-1000HD with the VC-300HD / VC-200HD Multi-Format Video Converter to expand input/output formats to HD/SD-SDI, RGB formats, etc.



Flexible and intuitive video presentation system
Touch panel display provides a more intuitive operation. The V-440HD Multi-Format Video Mixer accepts the HD signal from the DVI-D/RGB port on the PR-1000HD. The V-440HD also accepts HD cameras and computer formats.

Example Configuration