Variety of effects and controllable parameters
The CG-8 features more than 260 dramatic effects and a variety of parameters such as X/Y/Z 3D dimension, Color, or Speed. With these features, you can create amazing moving images from still images easily and quickly.
Up to 128 patches per project
Save all the elements and manipulative effects associated with a single image in a patch for instant recall during the performance.
Overlay moving images and title images
The CG-8 is capable of 2 layers of 3D motion images
and title images.
Tactile Real-time Control Surface
The CG-8 is equipped with 16 pads to trigger visuals instantly plus infra-red D-Beam and XY pad to manipulate visuals further.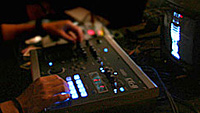 Trigger Effects and Parameter Changes from the Audio Input
The CG-8's visuals can be controlled by and synced to an audio source. The Internal Microphone or Line input can detect frequent peaks which will animate real-time changes to the visuals.
MIDI and V-Link Controllable
With MIDI and V-LINK capability, the CG-8 can be externally controlled by a familiar device such as a keyboard controller, V-Synth or V-Drums.

CG-8 Wins Best Video Product for 2006 awared by Club Systems International.