Hundreds of Enhancements
SONAR X2 is undoubtedly the best version of SONAR to date. Not only does it introduce exciting new features, but much time and care went into refining almost every aspect of the program. With an ear to our customers and a keen eye on what today's musicians need, we improved performance, workflow, aesthetics, and stability. Our goal? To craft a program that excels at every stage of music production and enables musicians to sound their very best. With literally hundreds of enhancements and improvements, SONAR X2 delivers the best music production experience on the market today.
SONAR X2 Producer Edition with the Roland REAC Driver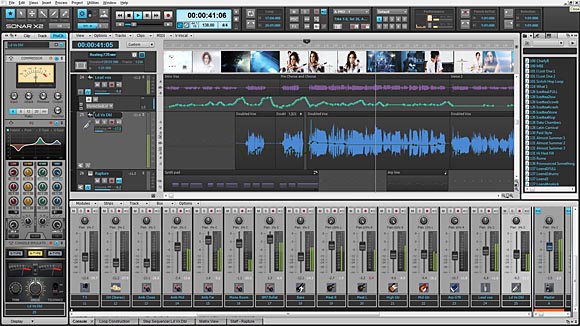 Instruments
Session Drummer 3

Rapture

Dimension Pro

TruePianos
Effects
| | |
| --- | --- |
| Overloud TH2 Producer | BREVERB SONAR |
| VX-64 Vocal Strip | LP-64 Mastering EQ |
SONAR System Requirements
Minimum system requirements
• Windows 7 or Windows 8 (32 and 64-bit). XP and Vista are no longer officially supported.
Future updates will not be compatible or install on XP and Vista as they are no longer officially supported.
• Intel Core 2 Duo E8200 2.67 GHz / AMD Phenom Quad Core 9750 2.4 Ghz or higher
• 2GB of RAM
• 1280x800 minimum screen resolution
• 4.5GB for minimal install, 20GB recommended
• Broadband internet connection for download
• Cakewalk Publisher requires available web server space with FTP access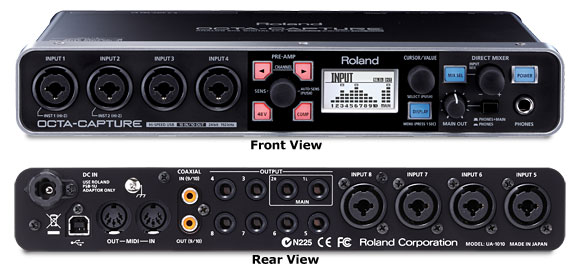 OCTA-CAPTURE: Hi-Speed USB Audio Interface
Eight Premium Mic Preamps, Compact I/O, Pristine Sound Quality
OCTA-CAPTURE boasts eight premium-grade digitally controlled mic preamps (VS PREAMPS), built with the same high-grade components as the preamps in the V-STUDIO 700 and M-400 V-Mixer. Eight XLR inputs are provided for the preamps, plus independent phantom power, low-cut filter, phase invert, and digital compression for each channel.
Auto Input Level Adjustment
Never before has it been this fast and easy to set perfect input levels — simply activate the AUTO-SENS feature with the push of a button, play your connected instruments, and OCTA-CAPTURE automatically sets the ideal recording level for each input. It's great for quick, fail-safe audio capture when recording either a fully mic'd drum kit or an entire band.
Extreme Low-Latency Driver
OCTA-CAPTURE offers incredible stability and industry-leading low-latency USB performance via Roland's proprietary VS STREAMING technology. All current Mac and PC DAW platforms are supported through ASIO 2.0/WDM (Windows) and Core Audio (Mac) drivers. Thanks to VS STREAMING, you can use multiple devices (two OCTA-CAPTURE units or one OCTA-CAPTURE plus a V-STUDIO 100 or V-STUDIO 700) on the same USB bus without compromising stability, performance, or audio quality.
Four Flexible Monitor Mixes
Beyond traditional audio interfacing, OCTA-CAPTURE offers four independent Direct Mixers for creating software-controlled monitor mixes. Each mix can be routed to any of the analog outputs and can take advantage of the internal 40-bit DSP processing — perfect for sending custom monitor mixes to headphones, speakers, or recording devices.
Configuration Examples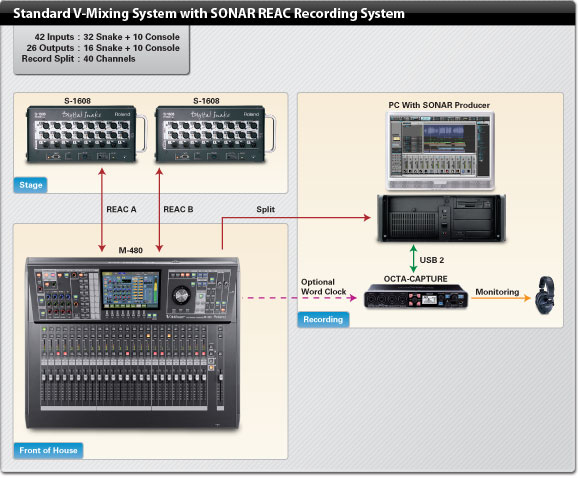 View PDF
The digital mixing and recording system brings unprecedented ease, convenience and quality to installations and live-sound events. The V-Mixing System consists of digital snakes up to 80 inputs, a 48 channel digital mixing console, and splits for personal mixing, recording to software or internal stereo .wav recording to USB flash drives. The V-Mixing System delivers superior sound quality, is easy to use and learn, and offers all the digital benefits like instant recall, digital effects, remote controllability and more.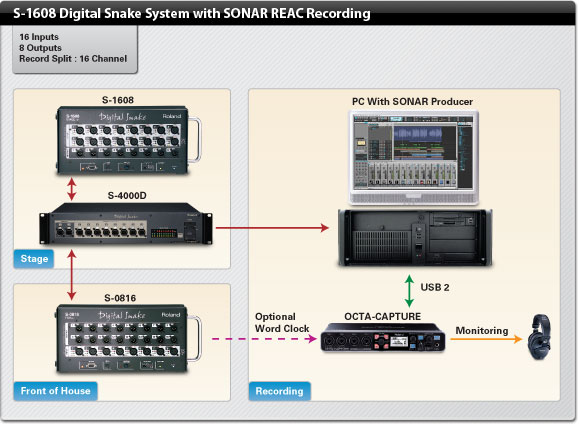 View PDF
The S-1608 and S-0816 Digital Snake are compact versions of the popular S-4000 Digital Snake system. Easy to use and quick to install, the S-1608 Digital Snake system is a small format audio snake solution that offers the highest quality audio signal available in a portable snake system. The S-1608 Digital Snake system is ideal for bands, corporate A/V events, seminars, rental and staging houses, Houses of Worship and broadcasters that need the best possible sound quality from their audio without the high frequency losses and bulk of an analog snake.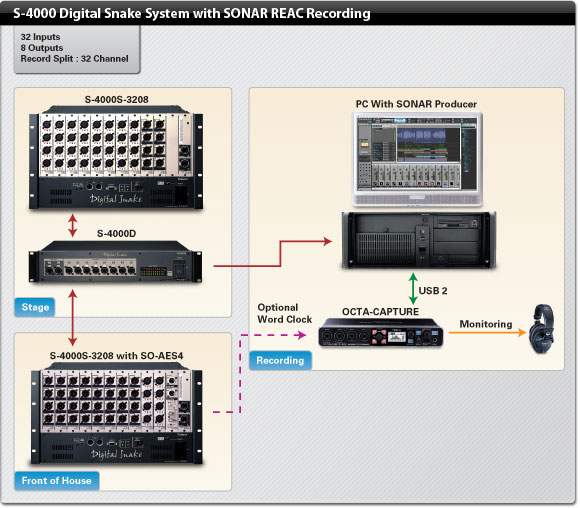 View PDF
The S-4000S is a modular digital snake system delivering 40 channels of high quality 24-bit/96kHz audio over Cat5e cables. System highlights include remote controllable XR-1 professional quality mic preamps, redundant Ethernet ports and splits using standard Ethernet hardware.


For help in configuring a computer for SONAR REAC Recording, visit PC Audio Labs.